Veterinary Practice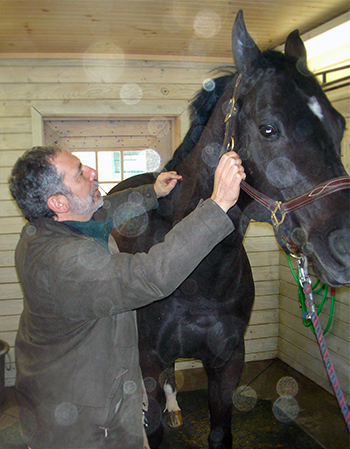 Allen M. Schoen, DVM, MS and Associates, Inc., is now closed. My practice offered a holistic, integrative approach to your animal's health care. With over 40 years of clinical experience, research and teaching, Dr. Schoen  has developed his own unique approach integrating various holistic natural therapies for your animal companions, both equine and small animal. The therapies offered include acupuncture, veterinary-chiropractic care, nutrition, nutritional supplements, botanical medicine (herbs), homeopathy, mind body medicine as well as others.  Dr. Schoen feels that loving kindness and compassion are also an integral component in the healing process of all beings.
Dr. Schoen is now retired from his active veterinary practice and is focused on new projects to help animals in additional ways.  The best way to reach him is by email at schoenoffice@gmail.com
To find a holistic, integrative veterinarian in your area, check the following websites:
1. ahvma.org (The American Holistic Veterinary Medical Association)
2. aava.org (The American Academy of Veterinary Acupuncture)
3. ivas.org (The International Veterinary Acupuncture Society)
4. tcvm.com (The Chi Institute For Traditional Chinese Veterinary Medicine)
An integrative approach combining the best of natural therapies along with conventional medicine is recommended.  The various therapies and approaches as well as the most frequently asked questions about each are described and answered in more detail on the following links:
Animal chiropractic/
musculoskeletal alignment
Integrative Medicine Consultations
We wish and your animal friends the healthiest and happiest life possible.