Welcome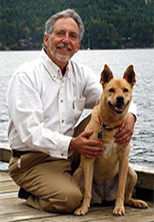 Holistic Integrative Veterinary Healthcare
is an innovative approach that unites the best of holistic, natural techniques with the best of conventional veterinary medicine to offer a new comprehensive form of compassionate animal health care services. Dr. Schoen is one of the pioneers in veterinary acupuncture and natural therapies, developing and practicing them since 1981. He has been acknowledged worldwide for introducing the concept of an integrative approach to veterinary medicine, bridging the gap between conventional and alternative medicine. With over 40 years of clinical experience, teaching and research, he has developed his own unique integrative approach to animal health care.
Dr. Schoen is pleased to announce the publication of his new book, The Compassionate Equestrian: 25 Principles to Live By When Caring for and Working with Horses, co-authored by Susan Gordon. See the Book section for more details. Currently Dr. Schoen is also developing his own expansive approaches to the concept of One Health and transpersonal mind/body medicine, offering workshops, retreats and veterinary consultations on developing a new broader vision of what animal healing is in relation to our own personal, transpersonal and global health and healing.
He also offers mind/body medicine, compassion fatigue and stress management support and consultations for veterinarians and animal health care professionals.
Dr. Schoen limits his veterinary practice to his current clients and occasionally a limited number of new or old clients time permitting. In addition to his long term clients, he is presently focusing on developing this new approach to animal and global health care.