Books
---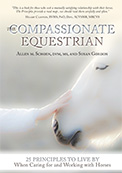 The Compassionate Equestrian
25 PRINCIPLES TO LIVE BY
When Caring for and Working with Horses
by Allen M. Schoen, D.V.M., M.S. & Susan Gordon Purchase at Amazon.com
I am pleased to announce the release of my new book, The Compassionate Equestrian.
This book, born out of a unique collaboration with a long-time trainer and competitor Susan Gordon, introduces the 25 Principles of Compassionate Equitation: a set of developmental guidelines that encourage a profound level of personal awareness during not only interactions with horses, but with all sentient beings.
By developing deeper compassion for our horses—and for ourselves— equestrians take the first step on a path to transcending differences and disagreements, learning instead to empathize and connect more closely with the "global collective" of horses and horsepeople.
Discover the simple changes any horseperson can make that will ultimately have a vast impact on the rider's relationship with the horse, the state of the horse industry, and the world as a whole.
This is a book for those who seek a mutually satisfying relationship with their horses. The Principles provide a road map…we should read them carefully and often.
–Hilary Clayton
BVMS, PhD, Dipl. ACVSMR, MRCVS
The Compassionate Equestrian is both ahead of its time yet remarkably ancient in its wisdom and fundamental teachings. Based in art and proven modern science, the 25 Principles are a priceless collection of universal values, methods, and techniques that will greatly improve the mind and body of both horse and rider. This impactful book is loaded with valuable lifelong lessons that place compassion and empathy at their core. It will enable readers to develop and sustain meaningful, respectful, and successful partnerships with their horses
–Philip E. Richter
Treasurer, United States Equestrian Team Foundation
I would highly recommend this book for anyone who loves animals—not just horses—and wants to gain an understanding of them on a deeper, more intimate level. The authors offer us numerous, often profound insights, through their own varied experi­ences and backgrounds, regarding the integration of compassion into all areas of our lives. With deeper reading, one begins to appreciate more fully, how the immutable relationship between human health, animal health, and that of our environment—a world of One Health—is the real basis for improving the life of our entire planet.
–Ted Cohn, DVM,
President, American Veterinary Medical Association
Dr. Allen Schoen is an innovative, compassionate, and thoughtful veterinarian whose book emphasizes the responsibilities that attend the human-equine relationship.  The Compassionate Equestrian provides practical information derived from a lifetime of caring for sport and pleasure horses. Dr. Schoen has a keen eye for animal and human behavior, and his book has value for the novice and the experienced equestrian alike.
–Michael Kotlikoff, VMD, PhD,
Austin O. Hooey Dean,
College of Veterinary Medicine, Cornell University
Dr. Schoen is an innovator in combining conventional medicine with holistic therapies. In The Compassionate Equestrian, he charts the rise of a unique field of veterinary medicine whose foundation rests on a profound respect for all life, and specifically for horses. This is compassion in its purest form, and it's revolutionary. Meticulously researched, The Compassionate Equestrian enlightens any reader on the benefits of applying sympathy and empathy to the core of all equine training and care. Practicing compassion is the essence of the bond between rider and horse, and of course between any two people.
–Arriana Boardman,
Member, ASPCA Board
Dr. Schoen has always lead by example, and lives a lifetime of connected joy with the horses that he treats and their owners. We will continue to benefit from his kindness and guidance through his new book, The Compassionate Equestrian. From backyard ponies to trail horses to show jumpers, it's 'all about the horse.'
–Paula Kennedy, LVT,
Dean's Advisory Board, Cornell College of Veterinary Medicine
This book challenges us, to 'slow down,' take a deep breath, and examine our relationship with ourselves and with our horses. Using storytelling and personal experiences, combined with scientific research and a good dose of spirituality, these pages offer something for all readers. Whether you are a seasoned horseperson or someone who just loves horses and wants to share in the journey, the book promises discovery for all.
–Mary Ann Simonds,
Author, Founder and Director of the Whole Horse and Equestrian Science Institute
The horse just happens to be the perfect animal to help us understand ourselves better. He's far more physically powerful than us, but also more perceptive in many ways. Horses can see right through us, and they reflect our deeper selves back to us in a way that is undeniable.

This much-needed book asks us to not only try to become better observers of our horses, but to think about that which we notice in a new and deeper way. Most importantly, it asks us to watch ourselves as we are interacting with our horses.

The authors give us a path to follow, challenging us to use the powerful tools of self-awareness or mindfulness, and meditation (QFI in the book) to change our own behaviors and become better stewards of the horse, and then extend that to our interaction with other beings.

Learning these tools takes work, but with effort it can become an integral part of our behavior. I know this because I have been on a similar journey myself, and the rewards gained in all aspects of my life—from my relationship with horses and people, to my ability to function in my businesses—are profound.
–Doug Thal, DVM, DABVP,
Creator of The Horse Side Vet Guide
I very much enjoyed reading the Compassionate Equestrian by Dr. Allen Schoen. Reading this well-written book allowed me to better understand, both conceptually and scientifically, the feelings of our equine patients. The information in the book will hopefully improve my ability to "listen" to my equine patients and become a more compassionate veterinarian and person (see quote on page 320).
–Tom Divers DVM, ACVIM, ACVECC, and
Professor of Medicine in the College of Veterinary Medicine, Cornell University, Ithaca N.Y.
Dr. Allen Schoen and Susan Gordon provide a thoughtful, provocative reminder that horses feed off our personal health and well-being. The rush of our daily lives, work schedules, and pressures to succeed can weigh heavily on veterinarians, trainers, and riders, and can influence our approach to the horse. The horse can sense this tension or stress. The book reminds us that personal mental/emotional well-being is important to ourselves and those (both horses and people) we interact with daily.
– Ryland B. Edwards, III, DVM, PhD, DACVS,
Fairfield Equine Practice, Newtown, Connecticut
---
Kindred Spirits
How the Remarkable Bond Between Humans
and Animals Can Change the Way We Live
by Allen M. Schoen, D.V.M., M.S. Purchase at Amazon.com
Kindred Spirits shares the transformative power of Schoen's remarkable methods and his vision for a society in which we cease to be owner and pet, human and animal, but are simply respected companions connected by an inimitable bond–Kindred Spirits. Treating animals just as any healer would treat human beings, Schoen draws on his extensive experience in veterinary practice and the latest research in animal neurophysiology to show how humans and animals can mutually benefit from heightened awareness and respect. Along the way, he explores how natural healing methods are revolutionizing his profession, and, in the tradition of James Herriot, shares heartwarming, fascinating stories of animals and their caretakers who have deeply enriched each other's lives. Through moving scenes–such as the cancer-stricken dog that helped its guardian cope with diabetes, or the ailing German shepherd, King, who fights to stay alive so he can assist and comfort his ailing human companion–Kindred Spirits details the many ways in which the human-animal bond can provide a wellspring of love and support, and help us all lead happier, healthier, and more fulfilling lives.
Kindred Spirits also outlines Schoen's special prescription for improving the care we give our animals and deepening the kindred connection between us. He shows us how to ensure the well-being of our animal companions through adopting simple healing practices at home, such as providing them with the most nutritious foods and performing a "natural pet scan" weekly to identify any major health concerns.
Through simple techniques such as co-species meditation, kindred relaxation, and sharing mindful moments, Schoen shows us how we can enhance our relationship with our animals and our connection with the world around us. Creating a new synthesis of conventional veterinary and natural medicine, and offering a timely vision for all creatures great and small, Kindred Spirits will touch and enlighten anyone seeking deeper levels of awareness and uplifting stories of true love.
"Animals are a gift to the human race–a gift that humans seldom fully appreciate. Only now are we even beginning to understand what a marvelous blessing animals truly are."
Kindred Spirits is an eloquent, moving exploration of a belief I have long held–that animals and humans are intimately connected, and that we do ourselves and our animal friends a disservice when we underestimate the special bond that exists between us. Allen's call for us to embrace and respect our fellow creatures who share this planet is a powerful prescription for life in the twenty-first century.
–Dr. Jane Goodall, author of In the Shadow of Man and
Through a Window: My Life with Chimpanzees
I cannot imagine life without my dogs, and I've long known that patients with pets do better than those without. The bond between animals and humans can improve both physical and mental health. In Kindred Spirits Allen Schoen explores the nature of that bond and shows how the techniques of natural medicine can help both pets and their owners. I learned a lot from reading it.
–Andrew Weil, author of Eating Well for Optimum Health
As an animal lover and a firm believer in nonviolence and animal rights, I know that we are all endowed with the divine light of Buddha nature. We are all Kindred Spirits. This is the profoundly meaningful message of Allen Schoen's wonderful new book, chock full of heartwarming stories of how our spiritual and emotional connection with our pets and animals can bring us closer to the love, connectedness, spiritual wellness and deep sense of oneness and belonging that we all seek.
–Lama Surya Das, author of Awakening the Buddha Within
Kindred Spirits will touch the depths of your emotions and beliefs, and in doing so, will change the way you live. Read, learn, and open your heart to the animals with whom we share a kinship, and whose stories are shared so beautifully here.
–Bernie Siegel, M.D., author of  Love, Medicine &
Miracles and Prescriptions for Living
Kindred Spirits is a blessing of a book, honoring the powerful spiritual and intuitive connection between humans, animals, and all of life.
–Judith Orloff, M.D., author of Dr. Judith Orloff's Guide
to Intuitive Healing and Second Sight
Like a modern day James Herriot, Allen Schoen evokes the wonder of the human-animal bond and illustrates how animals anoint our humanity by providing companionship, unconditional love, protection, and nurturance. Animals touch our souls, share our lives, and are our link to becoming better children of God.
–Gregory K. Ogilvie, DVM, diplomate ACVIM and Professor of
Veterinary Oncology, Colorado State University
---
Love, Miracles, and Animal Healing
A heartwarming look at the spiritual bond between humans and animals.
by Allen M. Schoen, D.V.M., M.S. and Pam Proctor Purchase at Amazon.com
I love this book so much that I read portions of it aloud to friends.
–Richard Gere
Allen Schoen performed miracles on my animals for a very long time. Yet I never fully understood what he did until I read this fascinating book.
–Mrs. Sascha Rockefeller
A Compassionate and deeply moving book by a veterinarian with a rare understanding of the emotional as well as the physical needs of his patients. Anyone who loves animals will find it absorbing and educational.
–Henry Kissinger
Love, Miracles, and Animal Healing is a ray of hope for all creatures under our dominion,and is a major contribution to the art and science of veterinary medicine. This wonderful book should be read by all who love animals and keep them as companions.
–Dr. Michael W. Fox, Vice President, The Humane Society of the United States,
author of Understanding your Cat and Understanding your Dog
In his groundbreaking and moving book, Allen Schoen reveals how he has taken veterinary medicine to the level of his soul. He is a true pioneer.
–Martin DeAngelis, board certified veterinary surgeon
Love, Miracles, and Animal Healing is filled with love and empathy that all veterinarians feel toward animals when they dedicate their lives to helping them. At a time when acupuncture and other forms of natural medicine are now being recognized and accepted by many medical professionals, this book should offer new hope to animal lovers when conventional medicine fails to solve their animals' problems.
–Robert B. Hilman, D.M.V.; Senior Clinician,Cornell University College of Veterinary Medicine
Love, Miracles, and Animal Healing shows how veterinarians have the opportunity to see beyond the conventional facts of health and disease and to gain new insights into the art of healing. Compassionate, open and honest, this book will be uplifting to veterinarains and animal lovers alike.
–Sebastian E. Heath, Vet. M.B., Dipl. ACVIM,
Purdue University,College of Veterinary Medicine
---
Complementary & Alternative Veterinary Medicine: Principles and Practice
by Allen M. Schoen, D.V.M., M.S. and Susan G. Wynn, D.V.M. Purchase at Amazon.com
Book Review by Dr. R.H. Bradshaw
The field of complementary and natural medicine is rapidly expanding in both human and veterinary medical practice. This North American text seeks to cover the current state of the art in the veterinary profession. It is a lucid and highly informative book suitable for both students new to the field and established practitioners. I am sure it will remain a definitive source of information on these issues for the foreseeable future.
"Complementary and natural medicine" should be viewed as an umbrella term encompassing an array of very different conceptual approaches and techniques. Thus, for an comprehensive text in this field, the sheer volume and diversity of subject matter that needs to be addressed can present a problem. In order to tackle this diversity, the editors systematically divide the book into nine Units (each comprising a number of chapters) and seven Appendices (which list further sources of information). This successfully allows each topic to be viewed within its broader framework and allows easy reference to specific subject areas.
The first introductory chapter (in Unit 1 Fundamentals) covers some of the underlying philosophy and history from a Western perspective. The diverse group of therapeutic systems involved unfolds, and care is taken to point out some of the complexity of these different approaches. The Units that follow (Units 2 to 6) cover the following: nutrition (from preventative to cancer therapy); physical medicine (including acupuncture, Chinese herbs, chiropractic care and massage); energetic medicine, botanical medicine (including Western herbal, Chinese and Ayurvedic); and homeopathy. A "Miscellaneous Therapies" unit then covers environmental medicine, aromatherapy and Bach flower remedies.
Because of public perception (and attitudes in current veterinary practice), there is a tendency for complementary and natural medicine to be seen as irrelevant to the more conventional small animal veterinary practice, is particularly important.
In the final unit, a diverse number of issues are tackled including bioethics, the human-companion animal bond (a branch of anthrozoology), euthanasia, and ethnoveterinary medicine. All units follow a systematic approach and give a highly informative overview of the state of current thinking and practical application.
In the final sections of the book, a helpful series of appendices provide information on many different aspects of the field (from suppliers and Web sites, to periodicals and diagnostic software). This additional material will allow any students or practitioners to pursue specific topics in greater depth.
In conclusion, this is a very interesting and informative book. It successfully tackles a rapidly expanding field by providing a comprehensive and lucid account of the diverse array of available therapeutic systems while emphasizing the need for an integrated approach. This major new text deserves to be included in the reference library of all serious students and practitioners of veterinary medicine.
Dr. R. H. Bradshaw, D. Phil.
Department of Clinical Veterinary Medicine
University of Cambridge
Madingley Road
Cambridge CB3 OES
United Kingdom
---
Veterinary Acupuncture: Ancient Art to Modern Medicine
by Allen M. Schoen, D.V.M., M.S.  Purchase at Amazon.com
A trusted reference, Veterinary Acupuncture traces the evolution of acupuncture and details it's applications in modern veterinary practice. It includes the latest research, laws of point selection, the longitudinal muscle-channel system, equine biomechanics, and veterinary manipulative therapies.
The volume includes extensive acupuncture atlases for many species, including an expanded canine atlas with all-new detailed anatomic drawings. Clinical Significance boxes are provided to help the reader apply principles to clinical practice.
Dr. Schoen, D.V.M., M.S. is uniquely qualified to edit a book about veterinary acupuncture. He is a graduate of Cornell College University of Veterinary Medicine and received a Master's degree in neurophysiology and behavior from the University of Illinois. He is certified in veterinary acupuncture by the International Veterinary Acupuncture Society (IVAS) and in veterinary chiropractic by the American Veterinary Chiropractic Association. He established the department acupuncure at the Animal Medical Center in New York City in 1982.
He has been teaching and practicing both equine and small animal acupuncture since 1981 and currently has an equine and small animal acupuncture and natural therapy referral practice. He also received advanced training in Chinese herbal medicine and homeopathy.
Dr. Schoen has lectured at veterinary schools throughout the United States, and the world. He is an affiliate faculty member at Colorado State, University College of Veterinary Medicine and is on the faculty at the Chi Institute for Traditional Chinese Medicine. He has published numerous articles on veterinary acupuncture and coedited another professional reference, Complimentary and Alternative Veterinary Medicine: Principles and Practice, published by Mosby. He cowrote Love , Miracles and Animal Healing, published by Simon and Schuster. His latest publication is Kindred Spirits: How the remarkable bond between Humans and animals can change the way we live. Published by Broadway / Doubleday Books.