About Dr. Schoen
Allen M. Schoen, DVM, MS, Ph.D. (hon.)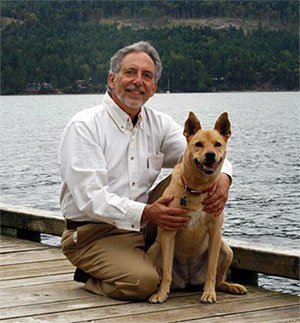 Dr. Schoen is one of the pioneers in veterinary acupuncture and natural therapies, developing and practicing them since 1981. He has been acknowledged by his peers as being one of the fifteen most influential veterinarians in North America as well as worldwide for introducing the concept of an integrative approach to veterinary medicine, bridging the gap between conventional and alternative medicine. With over 40 years of clinical experience, teaching and research, he has developed his own unique integrative approach to animal health care.
He received his DVM from Cornell University's College of Veterinary Medicine in 1978, and also holds a Masters Degree in Neurophysiology and Animal Behavior from the University of Illinois. He was certified in Veterinary Acupuncture in 1982 and is a past president of the International Veterinary Acupuncture Society and was one of the first veterinarians certified by the American Veterinary Chiropractic Association. In addition, he has advanced training in botanical medicine, mind/body medicine, integrative medicine and homeopathy, and the best of all these therapies are incorporated into his practice.


Dr. Schoen has worked to bring the best of complementary therapies into mainstream acceptance. He started the Department of Acupuncture at The Animal Medical Center in NYC (the largest animal hospital in the world) in 1982. He has taught and lectured at veterinary schools and conferences nationally and internationally. He has been a Clinical Assistant Professor at both Colorado State University College of Veterinary Medicine as well as Tufts University School of Veterinary Medicine. In 1996, he was appointed to a six-member committee by the American Veterinary Medical Association (AVMA) to develop guidelines for Complementary and Alternative Veterinary Medicine (CAVM).
His extensive clinical experience with complementary therapies, combined with an interest in the latest research, led to his editing the two principle veterinary textbooks on these modalities. Veterinary Acupuncture: Ancient Art to Modern Medicine, first published in 1994, is now in its second printing. Complementary & Alternative Veterinary Medicine: Principles and Practice (co edited with Susan Wynn, DVM) was published in 1998. Both have been translated into other languages. In his effort to reach the general public, he wrote the books Love, Miracles, Animal Healing (with Pam Proctor) in 1995 and Kindred Spirits: How the Remarkable Bond Between Humans and Animals Can Change the Way We Live in 2001, and Compassionate Equestrian: 25 Principles to Live By When Caring for and Working with Horses in 2015. He was prominently featured in the documentary series "the Truth about Pet Cancer", where he was able to share his own unique perspective.
He was honored with an honorary Ph.D. from Becker College for his contributions to veterinary medicine as well as receiving the Lifetime Achievement Award from the American Association of Veterinary Acupuncture for his groundbreaking contributions to Veterinary Acupuncture. He has received research grants for evaluating new approaches to animal health care.
Dr. Schoen continues to explore the integration of mind/body medicine and other cutting edge approaches into veterinary medicine and animal health care. In addition, he feels that the integration of an attitude of loving kindness and compassion into all endeavors is an integral part of healing all beings and our world.
Dr. Schoen is now retired from his veterinary practice after 40 years, but continues to teach, write and develop new approaches to animal and global health care, all infused with a foundation of loving kindness and compassion for all beings.
Integrative Medicine Consultations
As time permits, Dr. Schoen periodically accepts a limited number of clients for Integrative Medicine Consultations. These consultations are considered an additional perspective on clinical evaluations by their regular veterinarian. These are normally conducted through your regular veterinarian. They are not veterinary consultations, but rather they are focused on sharing general insights from his 40 years of pioneering integrative veterinary medicine.
They are not meant to be a substitute for conventional veterinary medicine, but rather an additional perspective based on Dr. Schoen's 40 years of clinical experience in pioneering Holistic, Integrative Veterinary Medicine.